For those of you who plan to submit a digital poster on our ePoster system, please try to follow the below guidelines. This will help with standardising the layout and way the posters look on the ePoster stands. We have based the digital posters to be the same size as an A0 scientific research presentation poster in portrait format. Our system doesn't support landscape at the moment.
EPOSTER GUIDELINES
PowerPoint Slide Size: 84.098 cm  (width) x 118.921 cm (height)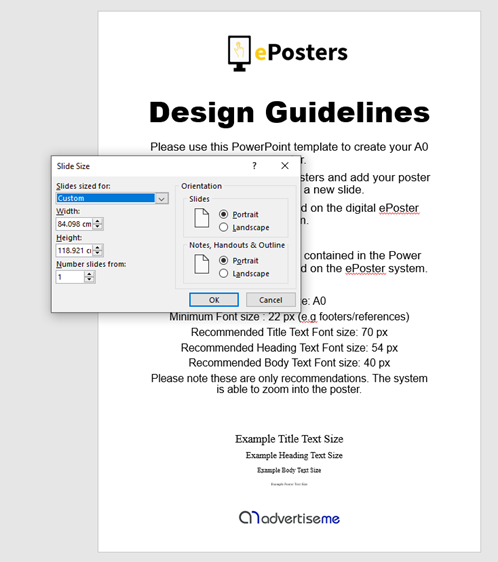 PowerPoint Font Size recommendations: 
Minimum Font size : 22 px (e.g footers/references)
Recommended Title Text Font size: 70 px
Recommended Heading Text Font size: 54 px
Recommended Body Text Font size: 40 px
Please note these are only recommendations. The ePoster system is able to zoom into the poster
You can also download the PowerPoint template which has been designed with the correct A0 size. Click on the below link to download:
ePoster – AO Template and Design Guidelines v1
Pixel Resolution: 2384 x 3370 px @ 72 DPI
File Format: PNG (best and preferred), PDF (takes longer to load and not recommended). You can submit to us the PowerPoint file and then we will convert it to PNG.
If you have any questions or issues feel free to contact us via chat or email.